I was hoping to show you my finished guest/kids bathroom earlier this week, but a snow storm had a very different idea for me. Dang snow blocked my way for shopping for those finishing touches. Today, however, I should be able to make it to the city and finish in time for a reveal early next week. In the meantime, I'll show you another space you haven't seen much of. Way back last summer, I gave you a glimpse of our sewing/craft room/office. While still not completely 'done', it is coming along nicely. I may re-paint the walls eventually, and it's still needing some accessorizing to add in some charm. Come on in for a tour!
The main functions of this room are an office, and sewing sanctuary (yes, the hubby is allowed in here to use the computer, but I've definately claimed this room as mine). One must have, when we were house hunting, was a space for me to quilt and create. I am soooo thrilled with this huge bonus room above our garage. It's just perfect! I feel so lucky to have a room like this!
Here is my cutting island:
I created it with two dressers and two desk tops from Ikea. It was done for less than $150. The center area will be a shelf type unit (built by my hubby) to store my wrapping supplies. The dressers hold my quilting supplies on one side, and wrapping supplies on the other.
This bank of simple desks (again from Ikea), is where my sewing machine is located, and a large work surface for general crafting (for both myself and the girls).
We put 4 dressers together along this wall to hold crafting/sewing supplies, and all our office supplies (such as file folders and stationery). We have a lot of office supplies, and even more craft supplies, so a large amount of storage was needed!
Finally, we used one desk and drawer combo for the computer, printer etc. I was originally looking for an antique table, or something with at least more character. However, after all the rest of the space was put together, I realized that just a simple Ikea desk would look more in keeping with the rest of the space.
I did manage to place a few antique and collected pieces around the room to add character and charm. This nook is perfect for reading or sewing. The fabric cabinet is from a garage sale, and is awaiting it's coat of Chalk paint (in a deep red colour). The wingback and side table were given to me by my Grandmother. The wingback is awaiting a slipcover, and I've already stripped and painted the sidetable once (yeeeeeaars ago), but I think it's going to get another makeover soon.
I bought this funky old jam cupboard at an antique store, and it holds many a crafting goodness.
I also have my Grandma's sewing cabinet tucked under the eaves in this little alcove. I found the child's old chair at a second hand store. I have a most amazing embroidered pillow project that I need to finish to adorn the chair.
There's also a bathroom up here. It's still awaiting some special touches before I show it off =)
There you have it; my second most favorite space in our home (other than our sunroom). I just love coming up here with a cup of tea in hand, and having a space to create in, or even just to sit and read, and daydream about all the projects ahead =)
Linking to my
Favorite Parties
!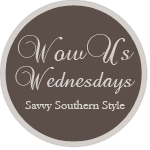 Thrifty Decor Chic's
Office/Craft Room Party